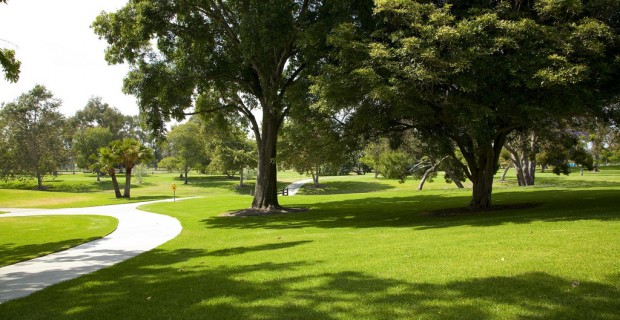 Fountain Valley
Fountain Valley is home to Mile Square Regional Park, a 640 acres park containing two lakes, three 18-hole golf courses, playing fields, picnic shelters, and a 20-acre (81,000 m2) urban-nature area planted with California native plants, a 55-acre recreation center with tennis courts, basketball courts, racquetball courts, a gymnasium, and the Kingston Boys & Girls Club; There is also a community center and a new senior center that opened in June, 2005. A major redevelopment of the recreation center and city-administered sports fields was completed in early 2009.
Fire protection and emergency medical services are provided by two stations of the Fountain Valley Fire Department. Law enforcement is provided by the Fountain Valley Police Department. Ambulance service is provided by Care Ambulance Service.
The Orange County Sanitation District's primary plant is located in Fountain Valley next to the Santa Ana River. The agency is the third-largest sanitation district in the western United States. This location is also home to the agency's administrative offices, as well as the offices of the Municipal Water District of Orange County, a member of the Metropolitan Water District of Southern California
Fountain Valley has two fully accredited major medical centers: the Fountain Valley Regional Hospital with 400 beds available, and Orange Coast Memorial Medical Center with 230 beds, a medical clinic, and an outpatient medical building.
The city also has 18 churches, one Reform synagogue, a mosque and a public library.
Fountain Valley has its own newspaper, the Fountain Valley View, operated by the Orange County Register.
Explore Fountain Valley