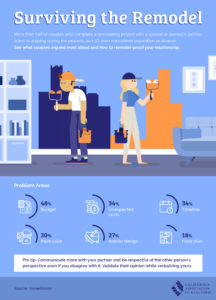 If buying a home is all about location, location, location, then remodeling one is all about planning, planning, planning. Whether you're preparing for a move or looking to update your home, remodeling can be a huge undertaking, so it's important the reward is worth it.  Maybe you're thinking about upgrading the counter tops, opening up the living room or re-doing the master bath. Or maybe all of the above.  But who do you call? A general contractor? Remodeling company? Handyman service?  Actually, your first call – before you make any changes – should be to Micah Stovall at Stovall Team.  Sure, Stovall Team is your trusted advisor when it's time to buy or sell a home. But we are also your best source for figuring out what home renovations will yield the best return.
It's important to have a team of professionals guide you in your remodeling endeavors. The last thing you want to do is make unnecessary repairs or put money into a project that that doesn't translate well with your buyers, based on your home's price point and neighborhood.
Stovall Team knows what trends are moving in – and which ones have left the dock. What many consumers don't realize is that certain upgrades that will bring you above-average returns on your investment. Other improvements may help you sell your home faster, but not necessarily for more money.
Beyond the basics, we need to hold your hand and provide expert advice. Let us help you as you plan your remodel.  As Realtors, we are living the market daily. We can help you maximize your investment, even if you are not planning to sell anytime soon.
Call the Stovall Team at 714.614.2475.