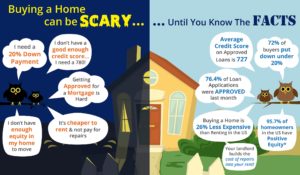 In today's real estate market, with low inventory dominating the conversation in many areas of the country, it can often be frustrating to be a first-time homebuyer if you aren't prepared.
In a recent realtor.com article entitled, "How to Find Your Dream Home—Without Losing Your Mind," the author highlights some steps that first-time homebuyers can take to help carry their excitement of buying a home throughout the whole process.
1. Get Pre-Approved for a Mortgage Before You Start Your Search
One way to show you are serious about buying your dream home is to get pre-qualified or pre-approved for a mortgage before starting your search. Even if you are in a market that is not as competitive, understanding your budget will give you the confidence of knowing whether or not your dream home is within your reach.
This step will also help you narrow your search based on your budget and won't leave you disappointed if the home you tour, and love, ends up being outside your budget!
2. Know the Difference Between Your 'Must-Haves' and 'Would-Like-To-Haves'
Do you really need that farmhouse sink in the kitchen to be happy with your home choice? Would a two-car garage be a convenience or a necessity? Could the 'man cave' of your dreams be a future renovation project instead of a make-or-break right now?
Before you start your search, list all the features of a home you would like and then qualify them as 'must-haves', 'should-haves', or 'absolute-wish list' items. This will help keep you focused on what's most important.
3. Research and Choose a Neighborhood You Want to Live In
Every neighborhood has its own charm. Before you commit to a home based solely on the house itself, the article suggests test-driving the area. Make sure that the area meets your needs for "amenities, commute, school district, etc. and then spend a weekend exploring before you commit."
4. Pick a House Style You Love and Stick to It
Evaluate your family's needs and settle on a style of home that would best serve those needs. Just because you've narrowed your search to a zip code, doesn't mean that you need to tour every listing in that zip code.
An example from the article says, "if you have several younger kids and don't want your bedroom on a different level, steer clear of Cape Cod–style homes, which typically feature two or more bedrooms on the upper level and the master on the main."
5. Document Your Home Visits
Once you start touring homes, the features of each individual home will start to blur together. The article suggests keeping your camera handy and documenting what you love and don't love about each property you visit. They even go as far as to suggest snapping a photo of the 'for sale' sign on the way into the property to help keep the listings divided in your photo gallery.
Making notes on the listing sheet as you tour the property will also help you remember what the photos mean, or what you were feeling while touring the home.
Bottom Line
In a high-paced, competitive environment, any advantage you can give yourself will help you on your path to buying your dream home.  Call the Stovall Team today at 714.343.9294 and we can help make your dreams a reality.
Owning a home has great financial benefits, yet many continue to rent! Today, let's look at the financial reasons why owning a home of your own has been a part of the American Dream for the entirety of America's existence.
Realtor.com reported that:
"Buying remains the more attractive option in the long term – that remains the American dream, and it's true in many markets where renting has become really the shortsighted option…as people get more savings in their pockets, buying becomes the better option."
What proof exists that owning is financially better than renting?
1. In a previous post, we highlighted the top 5 financial benefits of homeownership:
Homeownership is a form of forced savings.
Homeownership provides tax savings.
Homeownership allows you to lock in your monthly housing cost.
Buying a home is cheaper than renting.
No other investment lets you live inside of it.
2. Studies have shown that a homeowner's net worth is 44x greater than that of a renter.
3. Less than a month ago, we explained that a family that purchased an average-priced home at the beginning of 2018 could build more than $49,000 in family wealth over the next five years.
4. Some argue that renting eliminates the cost of taxes and home repairs, but every potential renter must realize that all the expenses the landlord incurs are already baked into the rent payment– along with a profit margin!
Bottom Line
Owning your home has many social and financial benefits that cannot be achieved by renting.  Call the Stovall Team today at 714.343.9294 to help put you on the path towards home ownership.
According to CoreLogic's latest Home Price Insights Report, national home prices in August were up 5.5% from August 2017. This marks the first time since June 2016 that home prices did not appreciate by at least 6.0% year-over-year.
CoreLogic's Chief Economist Frank Nothaft gave some insight into this change,
"The rise in mortgage rates this summer to their highest level in seven years has made it more difficult for potential buyers to afford a home. The slackening in demand is reflected in the slowing of national appreciation, as illustrated in the CoreLogic Home Price Index.  

National appreciation in August was the slowest in nearly two years, and we expect appreciation to slow further in the coming year."
One of the major factors that has driven prices to accelerate at a pace of between 6-7% over the past two years was the lack of inventory available for sale in many areas of the country. This made houses a prized commodity which forced many buyers into bidding wars and drove prices even higher.
According to the National Association of Realtors' (NAR) latest Existing Home Sales Report, we are starting to see more inventory come to market over the last few months. This, paired with patient buyers who are willing to wait to find the right homes, is creating a natural environment for price growth to slow.  Historically, prices appreciated at a rate of 3.7% (from 1987-1999). CoreLogic predicts that prices will continue to rise over the next year at a rate of 4.7%.
Bottom Line
As the housing market moves closer to a 'normal market' with more inventory for buyers to choose from, home prices will start to appreciate at a more 'normal' level, and that's ok! If you are curious about home prices in your area, talk to us. Call me at 714.343.9294 or [email protected] and I can show you what's going on!
Posted in Buyers, Sellers
|
Tagged best real estate agent, Coastal Orange County, Costa Mesa, Costa Mesa Real Estate, Cypress, Cypress Real Estate, Fountain Valley, fountain valley real estate, Local Real Estate Expert, Micah Stovall, OC Real Estate, Real Estate, Selling my home, Stovall Team
|
Comments closed
When it comes to buying or selling a home there are many factors you should consider. Where you want to live, why you want to buy or sell, and who will help you along your journey are just some of those factors. When it comes to today's real estate market, though, the top two factors to consider are what's happening with interest rates & inventory.
Interest Rates
Mortgage interest rates have been on the rise and are now over three-quarters of a percentage point higher than they were at the beginning of the year. According to Freddie Mac's latest Primary Mortgage Market Survey, rates climbed to 4.72% for a 30-year fixed rate mortgage last week.
The interest rate you secure when buying a home not only greatly impacts your monthly housing costs, but also impacts your purchasing power.
Purchasing power, simply put, is the amount of home you can afford to buy for the budget you have available to spend. As rates increase, the price of the house you can afford to buy will decrease if you plan to stay within a certain monthly housing budget.
The chart below shows the impact that rising interest rates would have if you planned to purchase a $400,000 home while keeping your principal and interest payments between $2,020-$2,050 a month.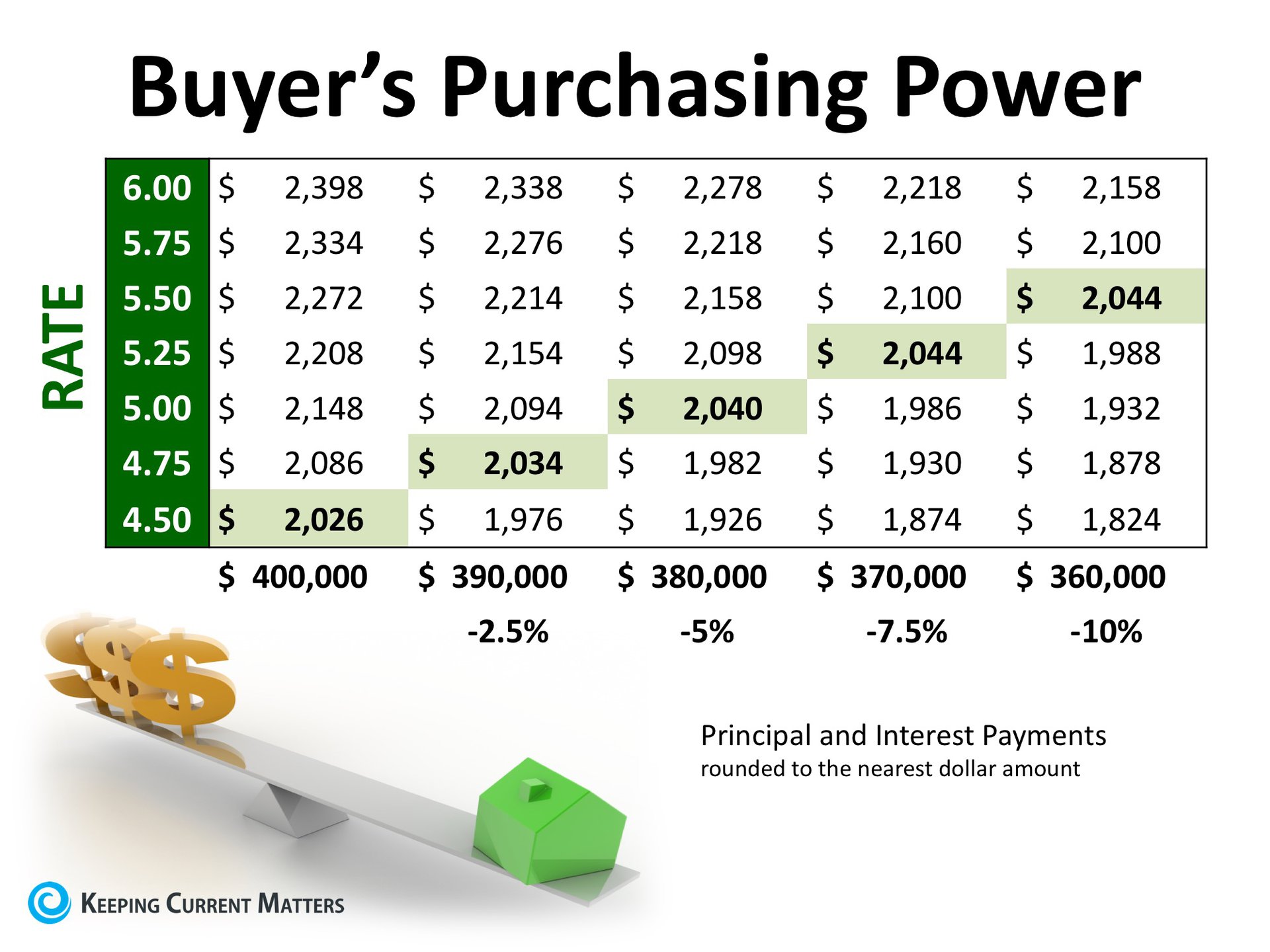 With each quarter of a percent increase in interest rate, the value of the home you can afford decreases by 2.5% (in this example, $10,000). Experts predict that mortgage rates will be over 5% by this time next year.
Inventory
A 'normal' real estate market requires there to be a 6-month supply of homes for sale in order for prices to increase only with inflation. According to the National Association of Realtors (NAR), listing inventory is currently at a 4.3-month supply (still well below the 6-months needed), which has put upward pressure on home prices. Home prices have increased year-over-year for the last 78 straight months.
The inventory of homes for sale in the real estate market had been on a steady decline and experienced year-over-year drops for 36 straight months (from July 2015 to May 2018), but we are starting to see a shift in inventory over the last three months.
The chart below shows the change in housing supply over the last 12 months compared to the previous 12 months. As you can see, in June, July, and August, inventory levels have started to increase as compared to the same time last year.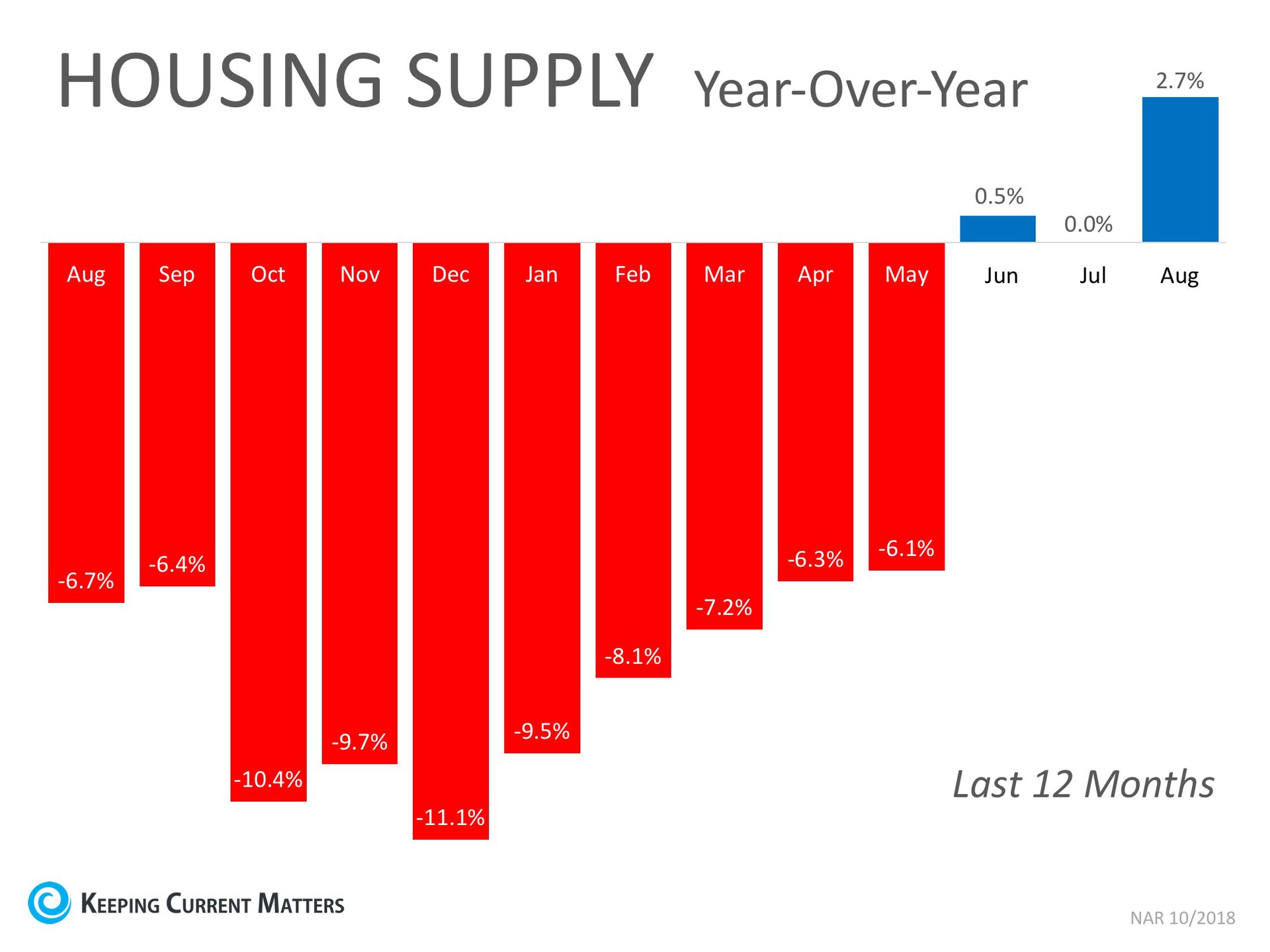 This is a trend to watch as we move further into the fall and winter months. If we continue to see an increase in homes for sale, we could start moving further away from a seller's market and closer to a normal market.
Bottom Line
If you are planning to enter the housing market, either as a buyer or a seller, make sure that you work with Stovall Team.  We can help you navigate the changes in mortgage interest rates and inventory. Call us today at 714.343.9294 or email at [email protected]
We are beginning to see reports that more housing inventory is coming to the market and that buyer demand may not be increasing at the same pace it did earlier this year. The result will be many headlines written to address the impact that these two situations will have on home values.   Many of these headline writers will confuse "softening home prices" with "falling home prices," but there is a major difference between the two.
The data will begin to show that home values are not appreciating at the same levels as they had over the last several years (softening prices). This does NOT mean that prices are depreciating (falling prices).  Here is an example: Over the last several years, national home values increased by more than 6% annually. If you had a home worth $700,000 at the beginning of the year, it would be worth $742,000 by year's end. If the appreciation rate "falls" to 4%, that $700,000 house would be worth $728,000 at the end of next year – a $14,000 difference.
The price of the home did not fall. It just didn't increase at the level it had the previous year.  Appreciation rates are projected to end this year at approximately 5%, and then drop to somewhere between 4-5% next year. This drop in appreciation rate will cause home price increases to soften.  Again, evidence shows this does not mean that home prices will depreciate, but instead that they will appreciate more slowly.
Be careful when reading headlines that discuss home values. Some headline writers will be legitimately confused and will use the word falling in place of softening. Others will realize that the headline "Home Prices are Falling!" will get more clicks than "Home Prices are Softening" and will intentionally write the more compelling headline. Read the article. If the word depreciation is not mentioned, home values are not falling.  Call the Stovall Team today at 714.343.9294 if you are interested in buying or selling a home. We are here to help.