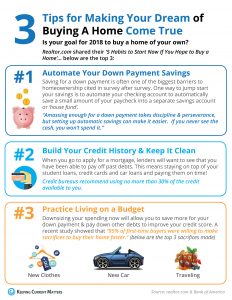 In coastal Orange County, the number of buyers searching for their dream homes greatly outnumbers the number of homes for sale. This has led to a competitive marketplace where buyers often need to stand out. One way to show you are serious about buying your dream home is to get pre-qualified or pre-approved for a mortgage before starting your search. Knowing your budget will give you the confidence of knowing if your dream home is within your reach.
Freddie Mac lays out the advantages of pre-approval in the 'My Home' section of their website:
"It's highly recommended that you work with your lender to get pre-approved before you begin house hunting. Pre-approval will tell you how much home you can afford and can help you move faster, and with greater confidence, in competitive markets."
One of the many advantages of working with Stovall Team is that we have relationships with amazing lenders who will be able to help you with this process. Once you have selected a lender, you will need to fill out their loan application and provide them with important information regarding "your credit, debt, work history, down payment and residential history." 
Freddie Mac describes the '4 Cs' that help determine the amount you will be qualified to borrow:
Capacity: Your current and future ability to make your payments
Capital or cash reserves: The money, savings, and investments you have that can be sold quickly for cash
Collateral: The home, or type of home, that you would like to purchase
Credit: Your history of paying bills and other debts on time
Getting pre-approved is one of many steps that will show home sellers that you are serious about buying, and it often helps speed up the process once your offer has been accepted.
Many potential home buyers overestimate the down payment and credit scores needed to qualify for a mortgage today. If you are ready and willing to buy, you may be pleasantly surprised at your ability to do so as well.  We will help you determine if now is the time to buy.
CALL US TODAY  714.343.9294 and VISIT StovallTeam.com!!  
Many people believe that selling their house during "the spring buyers' market" is the best thing to do. Their reasoning is that there will be more buyers than there are during the winter months and, therefore, their house will sell quicker and for a higher price.  Historically, this made sense. However, today's real estate market is not following the rules of the past.
The National Association of Realtors (NAR) measures buyer "foot traffic" each month. It receives data on the number of properties shown to a prospective purchaser by a Realtor® (based on the number of lockboxes used). The data reveals the number of buyers out actively looking for a home, not just window shopping on the internet. NAR explains:
"Foot traffic has a strong correlation with future contracts and home sales, so it can be viewed as a peek ahead at sales trends two to three months into the future."
According to the latest Foot Traffic Report, buyer traffic is greater now than it was during this year's spring market and there are more buyers out now than at any other time in the last five years (March of 2012).
The chart below shows that buyer activity over the last three months (blue bars) was greater than it was during this past spring market (green bars).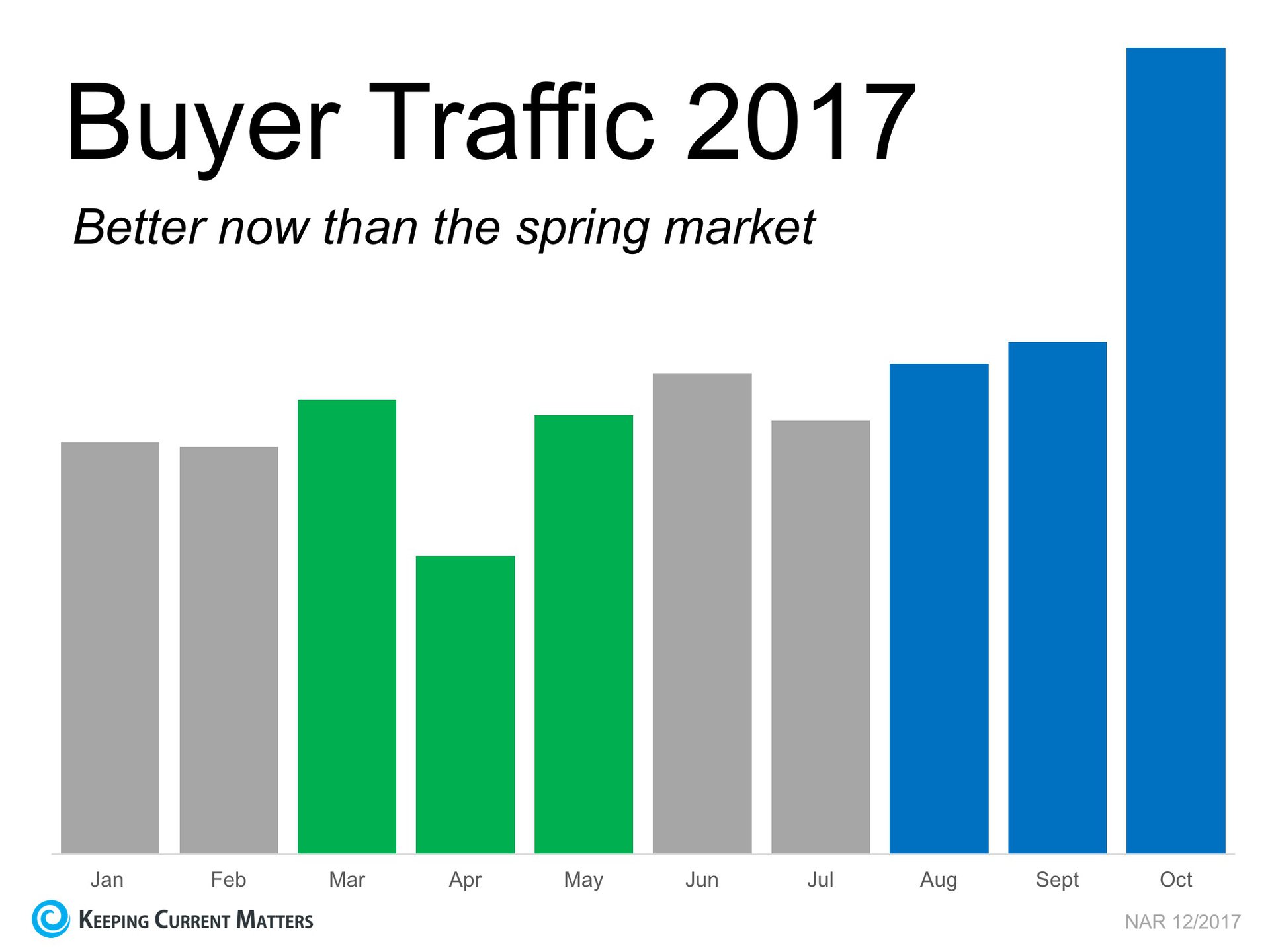 If you are waiting for next spring to list your home because you think that's when the buyers will be out in force, perhaps you should reconsider. Buyers are out right now!   Meet with Stovall Team  and we can evaluate your ability to achieve your dreams today!    CALL  TODAY 714.343.9294 and  VISIT StovallTeam.com!!               
Posted in Sellers
|
Comments closed
Owning a home has great financial benefits, yet many continue to rent! Today, let's look at the financial reasons why owning a home of your own has been a part of the American Dream for as long as America has existed.
Zillow recently reported that:
"In reality, buying or renting a home is an intensely personal decision, with emotional and even financial considerations that go beyond whether to invest in this one (admittedly large) asset. Looking strictly at housing market numbers, there is a concrete point at which buying a home makes more financial sense than renting it."
What proof exists that owning is financially better than renting?
1. We recently highlighted the top 5 financial benefits of homeownership:
Homeownership is a form of forced savings.
Homeownership provides tax savings.
Homeownership allows you to lock in your monthly housing cost.
Buying a home is cheaper than renting.
No other investment lets you live inside of it.
2. Studies have shown that a homeowner's net worth is 44x greater than that of a renter.
3. Just a few months ago, we explained that a family that purchased an average-priced home at the beginning of 2017 could build more than $48,000 in family wealth over the next five years.
4. Some argue that renting eliminates the cost of taxes and home repairs, but every potential renter must realize that all the expenses the landlord incurs are already baked into the rent payment– along with a profit margin!!
Bottom Line
Owning a home has always been, and will always be, better from a financial standpoint than renting.
Whether you are a renter who is searching for your dream home or a homeowner who feels like your only option is to renovate, you have at least one thing in common: feeling stuck in place.
According to data from the National Association of Realtors' Profile of Home Buyers & Sellers, the average amount of time that a family stays in their home remained at 10 years in 2017. This mark ties the highest marks set in 2014 and 2016. Back in 1985, when data was first collected on this subject, homeowners stayed in their homes for an average of only 5 years.
There are many reasons why homeowners have decided to stay and not to sell. A recent Wall Street Journal article had this to say,
"Americans aren't moving in part because inventory levels have fallen near multidecade lows and home prices have risen to records. Many homeowners are choosing to stay and renovate, in turn making it more difficult for renters to enter the market." 
Sam Khater, Deputy Chief Economist for CoreLogic, equated the lack of inventory to "not having enough oil in your car and your gears slowly [coming] to a grind."
Historically, a normal market (in which prices increase at the rate of inflation) requires a 6-7 month supply of inventory. There hasn't been that much supply since August of 2012! Over the course of the last 12 months, inventory has hovered between a 3.5 to 4.4-month supply, meaning that prices have increased and buyers are still out in force!
Challenges in the new-home construction market have "helped create a bottleneck in the market in which owners of starter homes aren't trading up to newly built homes, which tend to be pricier, in turn creating a squeeze for millennial renters looking to get into the market."
"Economists said baby boomers also aren't in a hurry to trade in the dream homes they moved into in middle age for condominiums or senior living communities because many are staying healthy longer or want to remain near their children."
So, what can you do if you feel stuck & want to move on?  Call the Stovall Team today and don't give up! If you are looking to move-up to an existing luxury home, there are deals to be had in our local market. Demand is strong in the starter and trade-up home markets which means that your house will sell quickly. Work with the Stovall Team to build in contingencies that allow you more time to find your dream home; the right buyer will wait.  Our intimate knowledge of the communities and schools allows the Stovall Team to guide clients as buyers and create strategic marketing for sellers. The Stovall Team's passion for real estate teamed with savvy negotiating skills and utmost devotion to clients is second to none. Call us today to discuss your real-estate needs at 714.343.9294 [email protected] and Visit StovallTeam.com
When buying a home, there is a lot to take into consideration. Often, buyers have to compromise and generally do not get everything on their wishlist. Here are three items we recommend buyers not compromise on.
THE FLOOR PLAN
THE SCHOOL DISTRICT
THE NEIGHBORS
Our intimate knowledge of the communities and schools allows the Stovall Team to guide clients as buyers and create strategic marketing for sellers. The Stovall Team's passion for real estate teamed with savvy negotiating skills and utmost devotion to clients is second to none. Call us today to discuss your real-estate needs at 714.343.9294 [email protected] and Visit StovallTeam.com